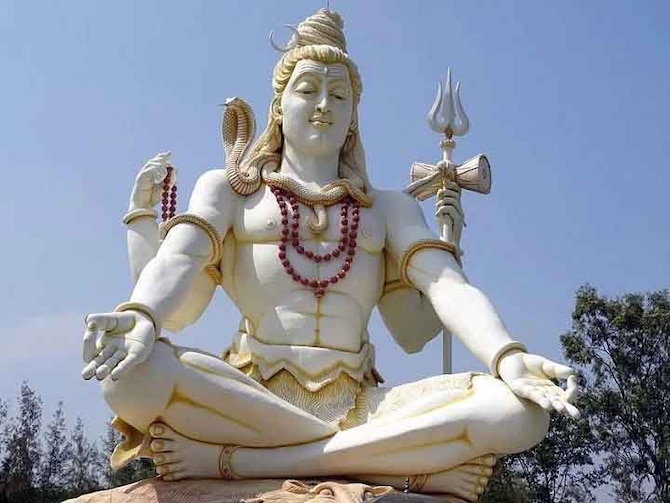 Shiv Tandav | Image Resource : static.abplive.com
Called the Supreme Being, Shiva has occupied a pre-eminent position since the early Vedic period. One among the three deities who adorned the holy trinity, the others are Lord Brahma and Lord Vishnu, God Shiva is believed to be the creator and protector of the universe. Shiv tandav is one of the two states Lord Shiva assumed and it is also called 'Lasya' (dance) state.
Ravana, a demon and King of Lanka, is believed to have composed Shiv tandav stotram. An ardent devotee of Lord Shiva, Ravana composed this stotram or eulogy instantly. A scholar in Navavyakarana, which means nine types of Sanskrit grammar, Ravana uses his knowledge in it to describe the Lord's physical attributes and amazing powers through 1008 verses. Chanting or listening to Shiv tandav stotram, one gets an opportunity to know and understand God Shiva.
Meaning of Shiv Tandav Stotram
Chanting of Shiv tandav stotram has the best effect if it is done by understanding the meaning of the stotram. The lyrics and meaning are explained below:


Jatatavigalajjala pravahapavitasthale


Galeavalambya lambitam bhujangatungamalikam


Damad damad damaddama ninadavadamarvayam


Chakara chandtandavam tanotu nah shivah shivam .. 1


The holy water that flows from his dreadlocks wets and cools his neck, which is adorned with a large snake like a garland. And the 'damaru', the drum, continually emits 'damat... damat... damat... damat...' sound to show that Lord Shiva is performing a vigorous dance of tandava. May the Lord shower prosperity and bless all of us.


Jatakatahasambhrama bhramanilimpanirjhari


Vilolavichivalara ivirajamanamurdhani


Dhagadhagadhagajjva lalalatapattapavake


Kishorachandrashekhare ratih pratikshanam mama .. 2


With the heavenly Ganga river flowing from the dreadlocks, its soft waves make his head shine. And his forehead too shining like brilliant fire – daga…daga…, while the crescent moon adorns his head like an ornament. All these make me love him every second.


Dharadharendrana ndinivilasabandhubandhura


Sphuradigantasantati pramodamanamanase


Krupakatakshadhorani nirudhadurdharapadi


Kvachidigambare manovinodametuvastuni .. 3


Being the consort of ever beautiful and lively daughter of the mountain (Parvati), Lord Shiva rejoices being with her and with compassionate and merciful glances he removes the hardships. This makes my mind seek happiness in him who has all the living things in the universe originating from him and who wears the world as a raiment.


Jatabhujangapingala sphuratphanamaniprabha


Kadambakunkumadrava praliptadigvadhumukhe


Madandhasindhurasphura tvagutariyamedure


Mano vinodamadbhutam bibhartu bhutabhartari .. 4


He, with the serpent, which has its hood shining with a sparkling gem, entangling on his dreadlocks. He, with his consort whose face is brilliantly colored due to the melting 'kumkum', red saffron, and He, with the hide of an untamed and ferocious elephant worn on the shoulder. These make my mind find happiness and pleasure in him, who heads the bhoothas (mystical beings).


Sahasralochanaprabhritya sheshalekhashekhara


Prasunadhulidhorani vidhusaranghripithabhuh


Bhujangarajamalaya nibaddhajatajutaka


Shriyai chiraya jayatam chakorabandhushekharah .. 5


May he whose hassock* is adorned by the flow of powdery substance of flowers, which are falling from the heads of Indra and other gods. And may he whose dreadlocks are tied by the red serpent. And may he who has the crescent moon, a friend of Chakora**, decorating his forehead, bless me ever live with prosperity.
*hassock means footrest
**Chakora is a bird in Hindu mythology, which drinks moonlight for survival


Lalatachatvarajvala dhanajnjayasphulingabha


Nipitapajnchasayakam namannilimpanayakam


Sudhamayukhalekhaya virajamanashekharam


Mahakapalisampade shirojatalamastunah .. 6


May he who adorns the raging fire, which burnt Kama (god of love), on his forehead; who is ever revered by devas or gods; who has the shining crescent moon on his forehead, making him look beautiful; and who wears a garland of skulls, bless us to attain the riches of perfection.


Karalabhalapattika dhagaddhagaddhagajjvala


Ddhanajnjaya hutikruta prachandapajnchasayake


Dharadharendranandini kuchagrachitrapatraka


Prakalpanaikashilpini trilochane ratirmama .. 7


May he who burnt the one with five arrows of flowers (the God of Love) with the fiery fire on the forehead, which burns with 'dhagad…dhagad…dhagad… and may he who is the only artist who can draw decorative lines on the tips of the breasts of Parvati; and may he who has three eyes make me enjoy praying him.


Navinameghamandali niruddhadurdharasphurat


Kuhunishithinitamah prabandhabaddhakandharah


Nilimpanirjharidharastanotu kruttisindhurah


Kalanidhanabandhurah shriyam jagaddhurandharah .. 8


May he whose neck looks dark like the layers of thick clouds densely packed on the new moon night; who adorns the celestial River Ganga on his head; who looks enchanting with the crescent moon on his forehead; and who carries the burden of the universe, O Lord bless us to have wealth and prosperity.


Praphullanilapan kajaprapajnchakalimaprabha


Valambikanthakandali ruchiprabaddhakandharam


Smarachchidam purachchhidam bhavachchidam makhachchidam


Gajachchidandhakachidam tamamtakachchidam bhaje .. 9


I pray to Him, who has a shining neck which looks like the black clouds in the universe and also like a beautiful bloomed blue lotus, the temples use for prayers and who punished the God of Love (Kama), who destroyed Tripura, the three magical cities, who put an end to the bonds of worldly life, who killed the demons Andhaka and Gajasura, with an elephant head and who killed Yama, the God of Death.


Akharvagarvasarvamangala kalakadambamajnjari


Rasapravahamadhuri vijrumbhanamadhuvratam


Smarantakam purantakam bhavantakam makhantakam


Gajantakandhakantakam tamantakantakam bhaje .. 10


I salute Lord Shiva who is like bees which fly around due to the scent of sweet honey that come from the bunch of propitious kadamba flowers and again who punished the God of Love (Kama), who destroyed Tripura, the three magical cities, who put an end to the bonds of worldly life, who killed the demons Andhaka and Gajasura, with an elephant head and who killed Yama, the God of Death.


Jayatvadabhravibhrama bhramadbhujangamashvasa


Dvinirgamatkramasphurat karalabhalahavyavat


Dhimid dhimid dhimidhvanan mrudangatungamangala


Dhvanikramapravartita prachandatandavah shivah .. 11


O Lord, victory to you, who has blazing fire on the forehead, the flames of which is whirling around in the sky by the breath of the snake and who dances tandav to the changing dhimmi, dhimmi, dhimmi sound of the sacred drum.


Drushadvichitratalpayor bhujangamauktikasrajor


Garishtharatnaloshthayoh suhrudvipakshapakshayoh


Trushnaravindachakshushoh prajamahimahendrayoh


Samapravrutikahsamam pravartayanmanahkada sadashivam bhaje .. 12


When will I be able to worship the eternal Lord Shiva, with the same feeling of equableness towards a snake and garland, towards precious gems and lump of dirt, towards friends and enemies, towards a blade of grass and lotus and towards an emperor and common people.


Kada nilimpanirjharinikujnjakotare vasanh


Vimuktadurmatih sada shirah sthamajnjalim vahanh


Vimuktalolalochano lalamabhalalagnakah


Shiveti mantramuchcharan sada sukhi bhavamyaham .. 13


When will I be free from all bad thoughts and passion for the pretty things and when can I devote myself living in a cave by the celestial River Ganga, having my hands clasped over my head praying Lord Shiva and live a happy life.


Idam hi nityamevamuktamuttamottamam stavam


Pathansmaranbruvannaro vishuddhimetisantatam


Hare gurau subhaktimashu yati nanyatha gatim


Vimohanam hi dehinam sushankarasya chintanam .. 14


Reading, remembering and reciting this great stotra will make anyone pure forever and will lead one to devotion of the great Guru Shiva and salvation. There is no way other than thinking and praying Lord Shiva, which will help remove delusion.


Pujavasanasamaye dashavaktragitam


Yah shambhupujanaparam pathati pradoshhe


Tasya sthiram rathagajendraturangayuktam


Lakshmim sadaiva sumukhim pradadati shambhuh .. 15


Those who recite the stotra composed by me, the ten-headed, after worshiping Lord Shiva anytime or a Pradosha day, will be blessed with elephants, chariots and horses, as well as his affectionate sight.
Origin of Shiv Tandav Stotram
Ravana, the demon king of Lanka, was the ardent devotee of Lord Shiva. Master of Vedas and Shastras, Ravana proved that he was the most knowledgeable and the respected scholar. Drawn to material benefits and greed for more power, Ravana unleashed terror in the universe, killed several emperors, kings, sages and innocent people and conquered most of the places.
A Brahmin, Ravana worshipped Lord Shiva and had performed severe austerity or 'tapasya' several times to seek the Lord's blessings. He was disappointed, so he went to Kailash to meet the Lord. Unable to meet Lord Shiva, he became angry and tried to lift the Kailash mountain so that he can carry it to Lanka.
Overly proud of his power and strength, Ravana tried lifting the mountain, in spite of the warnings from Nandi and other ganas. In the process, he shook the mountain, which disrupted the Lord's meditation. Sensing this, Lord Shiva pressed the floor of the mountain with his toe and the mountain got placed firmly. Ravana's arms got stuck underneath the mountain that he suffered agonizing pain, which led him to compose and chant Shiv tandav stotra. This amazing composition of the strotra made Lord Shiva happy and he freed Ravana.
Benefits of Shiv Tandav Stotram
Shiv tandav stotram if recited anytime provides several benefits. The second verse prays for prosperity, while the fourth helps seek happiness. The stotram is also a prayer for all types prosperity, both physically and mentally. Those who seek the wealth of Siddhis can chant the Shiv tandav stotram at home or temple.
The stotram helps seek liberation from the bonds of worldly life, as well as sins. Moreover, reciting it, one can also develop the feeling of equableness with everyone, whether rich or poor, weak or strong, wealth or poverty, and so on. It also helps one become free from any bad thoughts, suffering and delusions. The ideal time to chant this stotram is after sunset and the Lord blesses one with all goodness, prosperity and wellbeing in life.