Trimbakeshwar Temple is an important jyotirlinga temple located in Trimbak town, Nashik district, Maharastra. The most significant feature about it is its mention in the powerful Mrityunjaya Mantra, which bestows health longevity to readers. Another key quality about it is the presiding deity which has three faces – Lord Brahma, Lord Vishnu and Lord Shiva, Only male devotees can enter the inner sanctum and offer prayers and they have to wear a Silk Dhoti.
When you step inside the temple, what is noticed is the beauty of the Shiva Linga, which has the faces of o Lord Brahman, Vishnu and Shiva. This particular feature has made it to be a very popular pilgrimage destination because it can satisfy devotees to such an extent that cannot be experienced otherwise. Just a single look at the Shiva Linga will free the devotees from sins and harmful actions. The spirituality of this temple is enhanced by its mention in the powerful "Maha Mrityunjaya Mantra which gives longevity and immorality to the reader.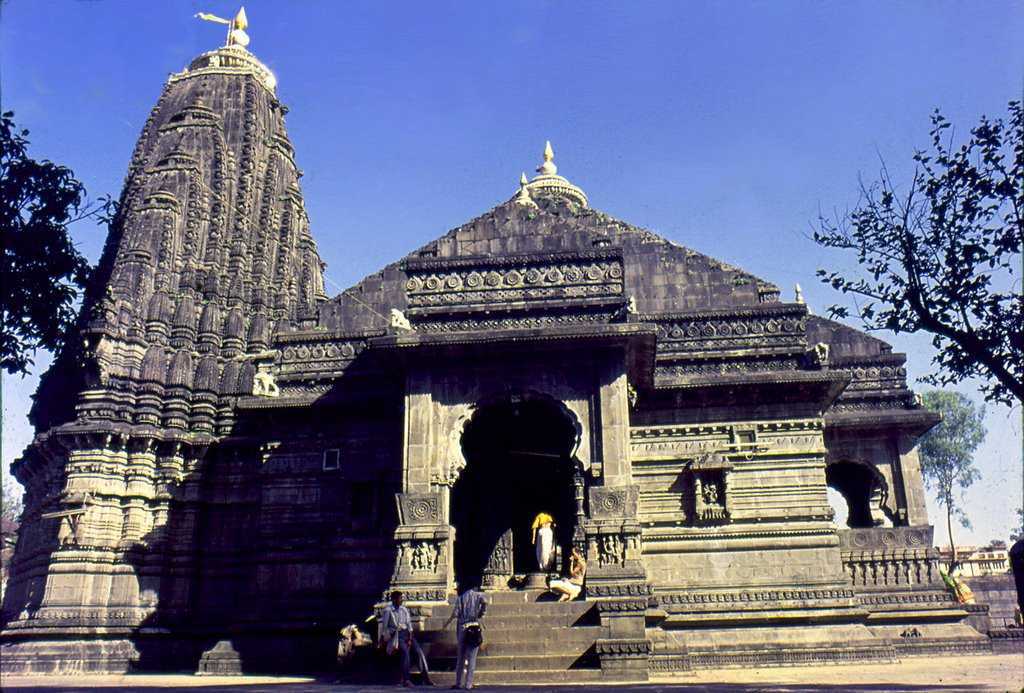 Trimbakeshwar Temple | Image Resource : tirupatihelps.com
Every 12 years, when the Kumbh Mela happens, this place is drenched with devotees from far corners of the country and the world. Such is the power of the Linga that due this particular time, people are drawn toward his place to enjoy its spiritual bliss and gain their much needed salvation.
The most stunning aspect of the temple is the Shiva Linga which is actually covered with a golden crown. This crown dates back to the time of the Pandavas and includes diamonds, precious stones and emeralds. You can see it put on display at the temple Monday from four to five pm.
You will find this temple to be stunning in its design style, structure and architecture pilgrims coming here find it to be beautiful and reflective of an old age or ancient construction style, something that has not easy to experience. An interesting aspect about the temple is that it is situated in close proximity to Nashik, which is pilgrimage destination for Shiridi Sai Baba devotees.
All around what you can see is the stunning sahayadri mountains of the Western Ghats. The temple is surrounded by thick forests, so what you experience is a trip to one of the most picturesque and lovely locations on earth. Temple is on the base of the Brahagiri mountains and it also stands on the place of origin of River Godavari.
Those who love rituals and traditional forms of worship will love this temple because it is the place where many rituals are carried out. For example, you can find the Tripindi Vidhi, Kalsarpa Shanti, and the Narayan Nagbali, rituals being carried out here. These powerful rituals helps alleviate sins such as childlessness, snake killing dosham, financial setbacks etc. You can find so many Brahmin homes in this place, which shows how much it is a center place for devotion and you can also find that there are many muths, ashrams that are dedicate solely to Ashtanga yoga, which is the Hindu art of living.
History of Trimbakeshwar Jyotirling
Trimbak was the place where Gautam Rishi resided with his wife Ahilya. When the place was struck by a massive drought, he prayed to Lord Varuna to bring water into the land, which the God did thus blessing Trimbak with abundant water resources. Seeing this, other sages prayed to Lord Ganesh to send a cow that would destroy the crops in the Rishi's field which he sent and as a result the crops mysterious became sick. The rishi killed the cow but upon seeing that it was a divine one and that he had sinned, he prayed to Lord Shiva. Answering his prayers and later ordered River Ganga to come down on the earth. Rishi Gautam saved it in has vessel called the Kushavarta Kund,, now a sacred bath and a sked Lord Shiva to reside amogst them thus resulting in the establishment of this Jyotirlinga temple. As you get into a ancient Hindu texts, you realize the significant spirituality of this majestic temple and how over millions of yeas, though it was destroyed and ravaged by time, still it was visited and people marveled at he majestic power of Lord Shiva when they cam here.
Architecture of Trimbakeshwar Temple
The temple is a stunning structure with huge pillars that are intricately carved and an external structure that resembles the age old structures that were constructed in antiquity. Such is the beauty of the intricate craftsmanship here that you will revel in the wonder that it arises in your hearts and mind. Such detailed sculpting and carvings are indeed stunning and a perfect example of temple style architecture of yester years.
This temple is the perfect example of ancient architecture that has withstood the test of time. Of course the current structure dates back to the mid 17th century, but still it reflects on the kind of building techniques that were used in this period and how painstakingly masons and artisans worked to get the structure gether and in a strong way. Such is the current structure's durability that it can withstand the test of time and it shows how much the Lord was revered such that the most artistic of carvings, pillars, structural designs was used to create the temple. As a result it has come out like a stunning work of ancient architecture.
An interesting feature close to the temple is the Shri Nilambika/Dattatreya/Matamba Temple. It is the place where Goddesses Shri Nilambika/Dattatreya/Matamba went to see Parashuram performing penance and as a rsult he asked these goddesses to stay there. When you look at the Trikambeshwarar temple what you wll notie is how simple it is in desing, yet how rich it in on the inside. You have the most beautiufl shrine of the Lord here, with thousands of devoees coming on a daily basis to carry out worship. Such is the magnificence of the interiors that you will fell as if going back in time as you explore the place.
Take time off and get back to an unusual period of time as you explore the beautiful interiors of the Trikambeswarar temple. It is a beautiful temple surrounded by absolute natural loveliness which is a must to enjoy. Come here to enjoy an ancient lifestyle, get to know more about Hindu rituals an tradition as well as visit some o the most important pilgrimage destination in this location.
This temple is on top of the Neel Mountain. All goddesses ('Matamba', 'Renuka', 'Mananmba') came here to see 'Parashuram' when he was performing penance (tapas). After his penance, he requested all goddesses to stay there and the temple was formed for these goddesses.
Step into this majestic temple to enjoy its ancient beauty, style and architectural splendor and also to drench yourself in the pinnacle of spirituality. The Trikambeshwarar temple is a one of a kind religious spot that is visited by thousands of people due to its huge historical and religious importance. Imagine the huge crowds that arrive here during the time of Mahashivratri and navaratri. They are indeed a spectacular sight and you can't help wonder at the power of the Lord here who beckons them to this place from afar.
Trimbakeshwar Temple Facts


Trimbakeshwar temple is located in Trimbak town, which is named after the temple


It is the venue for the Simhasta Kumbh Mela which is held over here once in every 12 years.


The temple is also a brilliant piece of architecture with marvelously carved pillars and intricate floral designs on its inner walls.


The current structure was built by Peshwa Balaji Bajirao in the 17th century on the site of the old temple,


The temple is close to the Brahamagiri Mountain from which River Godavari flows


Inside the temple is a pond whose source of water is the River Godavari


Crown on the Shiva Linga is made up of gold and studded with previous tone such as diamonds, emeralds, rubies etc.


The beautify surrounding natural beauty is such that the entire place is so picturesque and peaceful making it an ideal place to stay for nature lovers


The temple pond was built by Shrimant Sardar Raosaheb Parnerkar, who was Indore's Fadnavis


How To Reach Trimbakeshwar
You will find Nashik to be easily accessible by network of flights, trains and buses. You can make a booking to this place, eiher online or through a travel agent's website.
Air- Arrive at the Mumbai airport and then arrive at the temple via bus or cab
Train – reach the nearest railway station in Nashik, which is some 40 kms away and arrive her by bus or cab
Road – Nashik is well connected by road to various cities closeby. You can arive in this city by bus or taxi and then reach the Trimbakeshwar Road to arrive at the temple